Environmental Awareness Through Media Productions
Archive for TransCanada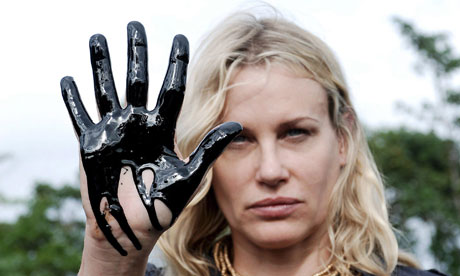 Daryl Hannah, the actor from such films as Blade Runner and Kill Bill, has been arrested for protesting against an oil pipeline that will see Canadian oil transported all the way to Texas, the length of the entire United States. The sit-in protest took place outside the White House and attracted the attention of the law when the several dozen protestors refused attempts by Park Police to move them along. The $13bn (£7.98bn) Keystone XL Pipeline will transport Canadian crude oil through 6 US states to the major refineries in Texas. TransCanada, the major Canadian oil company behind the pipeline, says the project will "significantly [improve] North American security supply". It is not the first time Daryl Hannah has been arrested for environmental protests. In 2009 she was taken in by police along with 30 other protestors for demonstrating against mountaintop removal mining in West Virginia. In 2006, she was removed from a tree in Los Angeles following a protest against the demolition of a community farm.
www.nytimes.com 6th June 2011
Canadian oil sands hold an incredibly large amount of oil. Sands in the province of Alberta alone hold an estimated 171.3 billion barrels of oil so it is not hard to see why its extraction is progressing at a rapid rate. However, a proposed pipeline between Canada and the US has stumbled across some difficulties as the State Department, the US government body that needs to give permission for the pipeline, reaches an end of its environmental review. The process has lasted since November 2008. A decision is expected by the end of this year. Environmental groups widely criticise the exploitation of oil sands due to the amount of energy and water used in the extraction process and the destruction of the Boreal forest atop the sands. With $7 billion behind the Keystone XL pipeline's construction though, as well as US government concerns about oil import instability due to the Arab Spring, environmental concerns may be sidelined for a secure source of oil. Russell K. Girling, president of TransCanada, the company behind Keystone XL, has said that oil sand development will go ahead whatever the American government decide. Other alternatives include transporting by rail or by using other existing pipelines such the Trans Mountain pipeline to Canada's Pacific Coast. The Chinese have also expressed interest. The Canadian government is not likely to fall out of love with so-called 'dirty oil' (see the film of the same name in our documentaries section) anytime soon. Canadians re-elected a conservative government who have been staunch supporters of oil sand development.